Elementary Communications
Elementary Teacher Lessons/Information
Click on the link below for elementary teacher lessons and information
MS/HS Teacher Lessons/Information
Last Day of the 2019-2020 School Year
The last day of the 2019-2020 school year is Wednesday, June 3. All homework should be completed and turned in via google classroom or the paper packets dropped off at the designated times (Monday, June 1 from 6-8 pm or Wednesday, June 3 from 9-11 am). Teachers will finalize grades on June 4 for the 4th quarter/2nd semester.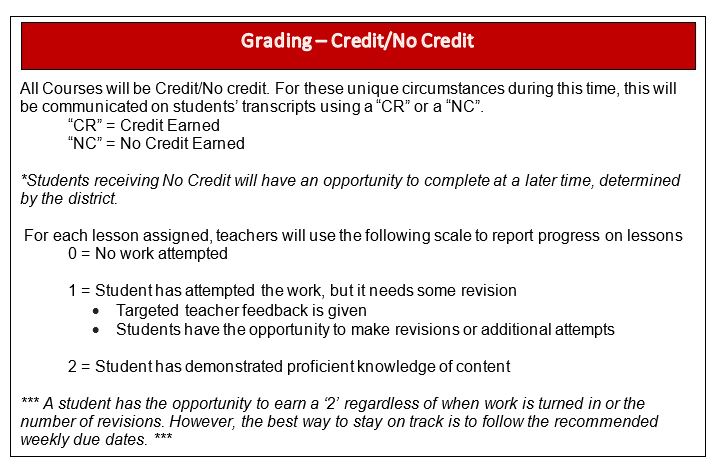 Food Service / Meal Distribution
Free Produce
We are excited to announce that Kent City Schools have collaborated with the USDA Farmers to Families program. This program delivers 20-pound boxes of fresh produce to our district. These boxes will contain an assortment of carrots, celery, cucumbers, apples, oranges, potatoes, onions and strawberries. The produce boxes will be available to families in our community on June 3 and June 17. You may pick up the boxes in the meal distribution line between 9:00 am-11:00 am. This program is open to everyone.
Closure Information
Kent City schools understands the important role the district plays in providing daily nutrition to our students. We take pride in our ability to provide free nutritious meals during this unanticipated closure. We will provide updates if there are changes to this plan. For now, WE ARE STILL HERE!
Grab and Go breakfast and lunch meals will be available outside the Elementary on College Street.
Meals available Monday, Wednesday, and Friday from 9:00 am to 11:00 am.
Free to anyone 18 and under.
Students do not need to be present for pick-up of meals.
You may pick up meals for families with no transportation.
You may pick up both breakfast and lunch at the same time.
You may pick up meals for 2 days at a time.
If you are unable to make it during these time frames please 616-678-7570 and leave a message including your contact information.
UPDATE
We will finish the month serving from our Elementary school pickup lane, May 27 and 29. On June 1, we will be serving at our new location at the Central Office, 200 North Clover St. At this time, we will continue to serve meals until June 19. Meals will resume July 6 through July 31. We will make sure to notify you with any changes to our plans.
Free and Reduced Lunch Applications
We are aware that many families may be experiencing a reduction or loss of income due to the closures affecting all of us. Please know that we can continue to accept applications for free and reduced price meals during the school closure. You can apply on-line at: www.lunchapp.com. We realize that breakfast and lunch at school aren't available but there are many more benefits that are available for families based on free and /or reduced meals status. The district's summer lunch program is also based on free and reduced meal applications. I encourage you to apply, if your family situation has changed or you did not want to apply in the past. I will try to process all applications within 48 hours. Also, your children status will be good for the first 30 days of the 2020-21 school year.
Pandemic EBT Program
Families with children who received free or reduced-cost lunches at school qualify for new program.
The Pandemic Electronic Benefit Transfer Program (P-EBT) provides temporary funding to address emergency food needs for families affected by the pandemic.
P-EBT food assistance benefits will go to Michigan families with students ages 5-18 that are eligible for free or reduced-price school meals. This includes families currently receiving Food Assistance Program benefits, as well as those not currently enrolled in the program. No application is necessary for eligible families to receive P-EBT benefits. Click HERE for more information.
Free Food Friday at Garfield Park on May 29th
Click HERE for more information.
Kent County Emergency Food Assistance Program (TEFAP)
Click HERE for more information.
Supplemental Nutrition Assistance Program (SNAP) Benefits
Click HERE for more information.
Chromebooks
If you are needing assistance with your Kent City Chromebook, please contact helpdesk@kentisd.org.
Si necesita ayuda con su Chromebook Kent City, comuníquese con helpdesk@kentisd.org
Those having difficulty connecting to the WiFi at home...
After some investigating it has been found that a setting for the chromebooks that were distributed is restricting the device from connecting to other wireless networks. We apologize for this inconvenience. We are learning too as these devices have never been out of the building previously.
Unfortunately, this means the Chromebook will need to reconnect at the school for this change / update to apply. Once this is done, it will allow them to connect to wireless at home. Again we apologize for this inconvenience.
Step 1- Bring device back to school parking lot.
Step 2- Student logs into device connecting to the school WiFi. This will update the device settings.
Step 3- The Chromebook can now be connected to home Wi-Fi.
Aquellos que tienen dificultades para conectarse a WiFi en casa ...
Después de investigar un poco, se descubrió que una configuración para los Chromebooks que se distribuyeron está restringiendo la conexión del dispositivo a otras redes inalámbricas. Pedimos disculpas por este inconveniente. También estamos aprendiendo ya que estos dispositivos nunca antes habían estado fuera del edificio. Desafortunadamente, esto significa que el Chromebook deberá volver a conectarse en la escuela para que se aplique este cambio / actualización. Una vez hecho esto, les permitirá conectarse a la red inalámbrica en casa. Nuevamente nos disculpamos por este inconveniente.
Paso 1- Traiga el dispositivo de regreso al estacionamiento de la escuela.
Paso 2- El estudiante inicia sesión en el dispositivo que se conecta al WiFi de la escuela. Esto actualizará la configuración del dispositivo.
Paso 3- La Chromebook ahora se puede conectar a la red Wi-Fi doméstica.