Food Service
Closure Information
Kent City schools understands the important role the district plays in providing daily nutrition to our students. We take pride in our ability to provide free nutritious meals during this unanticipated closure. Beginning Monday, March 23, 2020, the following plan will take place.
*Grab and Go breakfast and lunch meals will be available outside the Elementary on College Street.
*Meals available Monday, Wednesday, and Friday from 9:00 am to 11:00 am.
*Free to anyone 18 and under.
*Students do not need to be present for pick-up of meals.
*You may pick up meals for families with no transportation.
*You may pick up both breakfast and lunch at the same time.
*You may pick up meals for 2 days at a time.
* If you are unable to make it during these time frames please 616-678-7570 and leave a message including your contact information.
We will provide updates if there are changes to this plan. For now, WE ARE STILL HERE!
District
Updates
March 26th, 2020 - COVID-19 Updates
March 12th, 2020 - Special Notice Regarding Coronavirus

Elementary
Updates
KCE Message-Meal Distribution Update 3-23-20
Teacher Lessons/Information


4-year-old Preschool
Kindergarten (no electronic version available online)

1st Grade

2nd Grade

3rd Grade

4th Grade
5th Grade
Physical Education
Art
Music
STEM

Student Services/Mental Health Resources
Middle/High School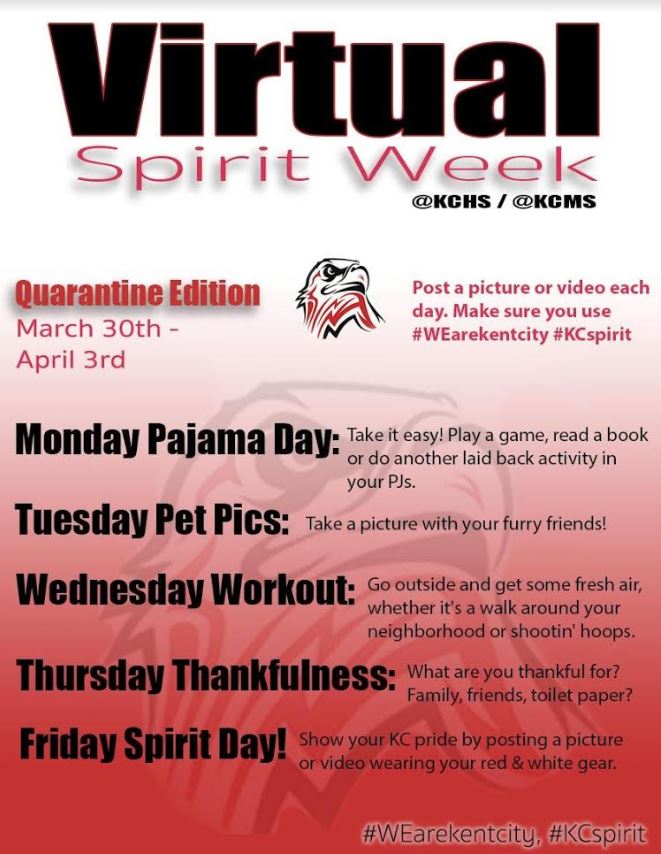 Updates
Teacher Lessons/Information
Click here for 6-12 assignments
Student Services
Kent City Counseling Department
KCHS Class of 2020 Updates
Resources - For Immediate Mental Health Needs
Scheduling for Current 9th - 11th Grade Students