WE Are Kent City Award Winners
Winter 2018 WE are Kent City Winners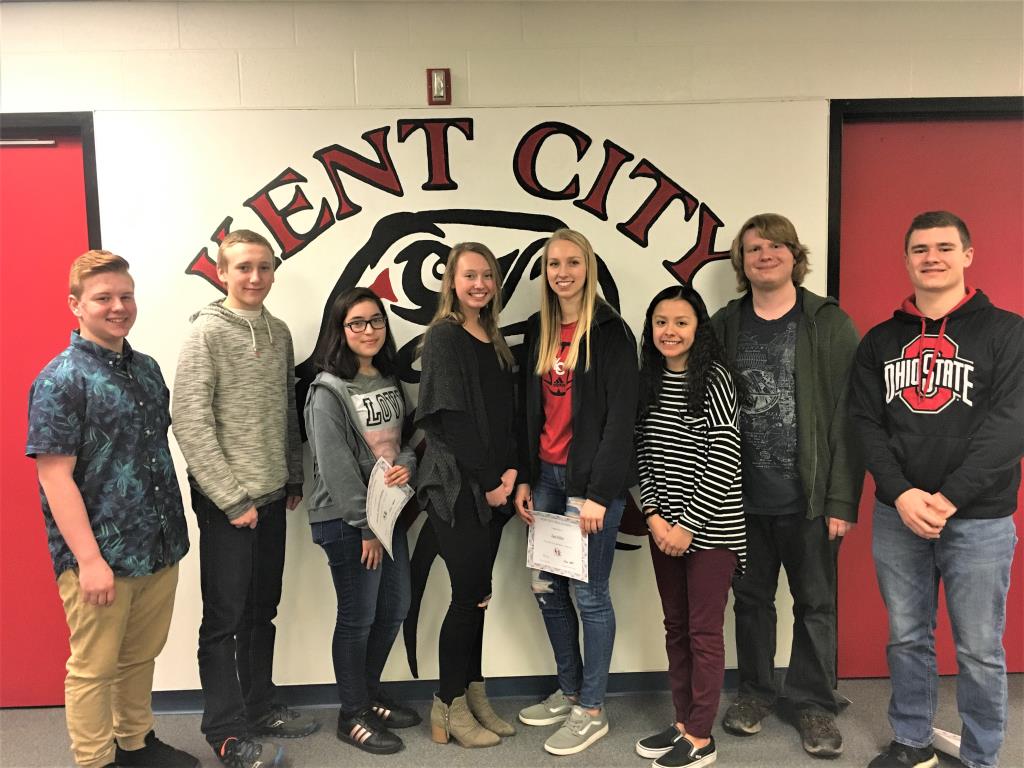 9th: Maritza Morales-Ceballos - "Maritza is such a wonderful example of her peers because of how hard she works and her attention to detail. On multiple occasions during the school year, I've used assignments that she has submitted as an example for the whole class to see what thorough, organized, and thoughtful work looks like."
9th: Ryan Wheeler - "In the classroom, hallway, or athletic arena, Ryan is cheerful and helpful. He is willing to do whatever is asked of him. He is a good student and citizen, paying attention and completing his work. Ryan is a hard working, positive person."
10th: Araceli Zuniga - "Araceli always puts forth her best effort. She is prepared and ready to work every day and she works very well both independently or with a group. Her drive and determination never ceases to amaze me. Araceli's focus on doing her very best on every piece of artwork she creates sets an incredible example for excellence."
10th: Richard Gendron - "Richard is a creative leader in the classroom. His classmates respect his unique perspectives and sharp humor. Richard's attention to details and thinking outside the box will get him far in life."
11th: Zara Weber - "I've seen Zara grow as a leader in many ways over the past three years. She started out as a freshmen who wasn't often willing to speak out and share her thoughts with her classmates, nor did she want to ask questions when she needed help. That has clearly changed now as Zara is much more willing to provide her opinions when she doesn't agree with others and she seeks out the help she needs when unsure on class topics. Zara really developed her confidence academically - there is no challenge she won't take on. A terrific young lady."
11th: John Meek - "John consistently shows maturity well beyond his years in many areas around the classroom and school. He is responsible, asks greats questions, takes responsibility for his learning and understanding, and has a way of helping his peers to gain perspective in ways not typical of teenagers. John truly exemplifies what it means to be a classroom leader. He is always offering his insight. John thrives academically, but, more impressive than that, is that he is so willing to help others thrive as well. A great young man!."
12th: Ryan Kik - "Ryan's talents extend far beyond her artistic ability; her willingness to take risks and challenge herself each day exemplifies creative leadership. Ryan's classmates seek her thoughtful recommendations because they understand and respect her artistic aptitude and strong creative voice. She finds joy in assisting her classmates and loves exploring the creative process through collaboration along with independently. I truly look forward to seeing where her profound skills will take her in life."
12th: Brady Fritz - "Brady is such an outstanding student and he has an extremely bright future ahead of him. He is extremely intelligent but yet works hard to be thoughtful and find ways to challenge himself with assignments that would otherwise be "easy" for him. Additionally, he is very willing to help his classmates without making them uncomfortable about not understanding in the way he does."